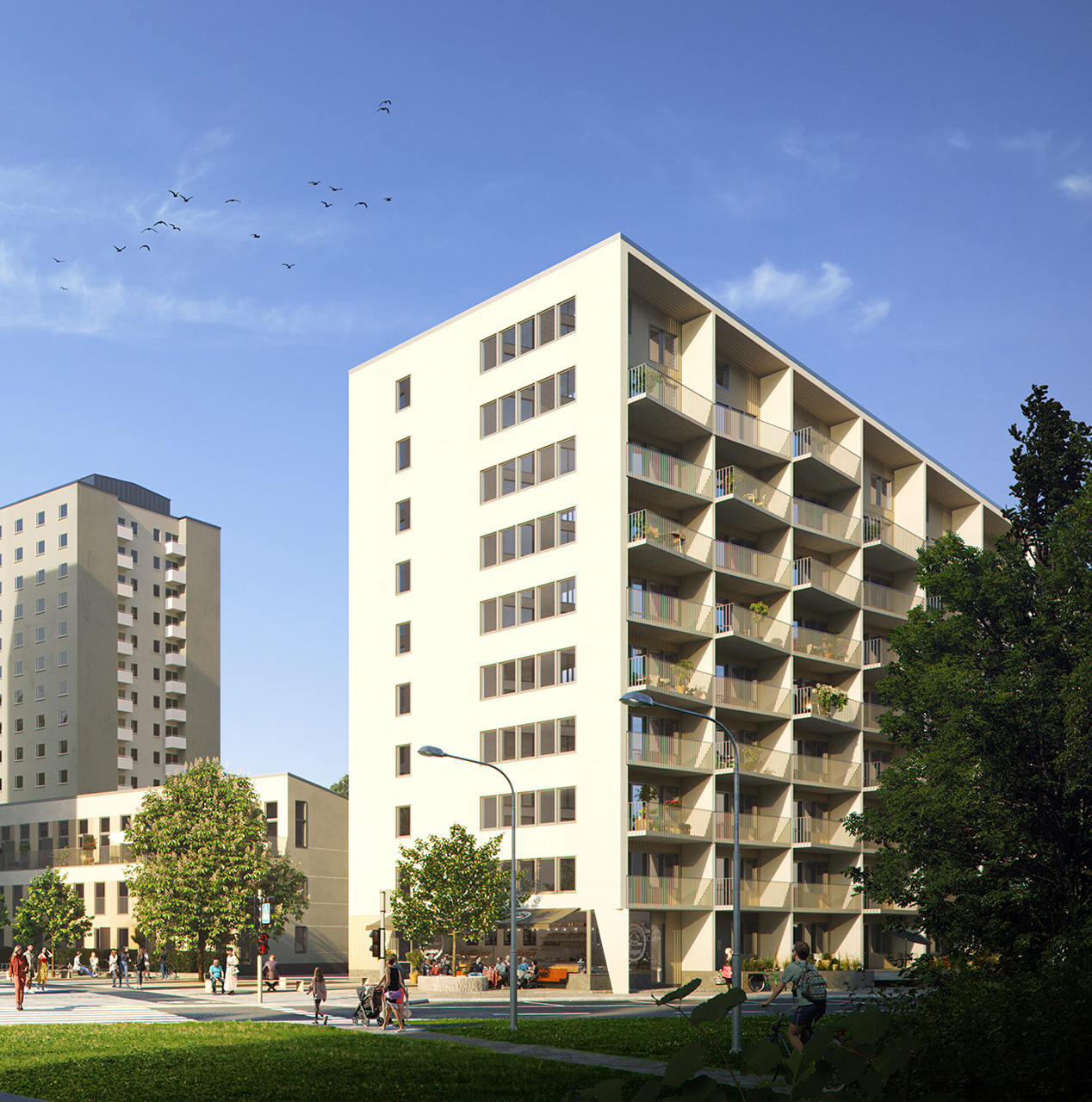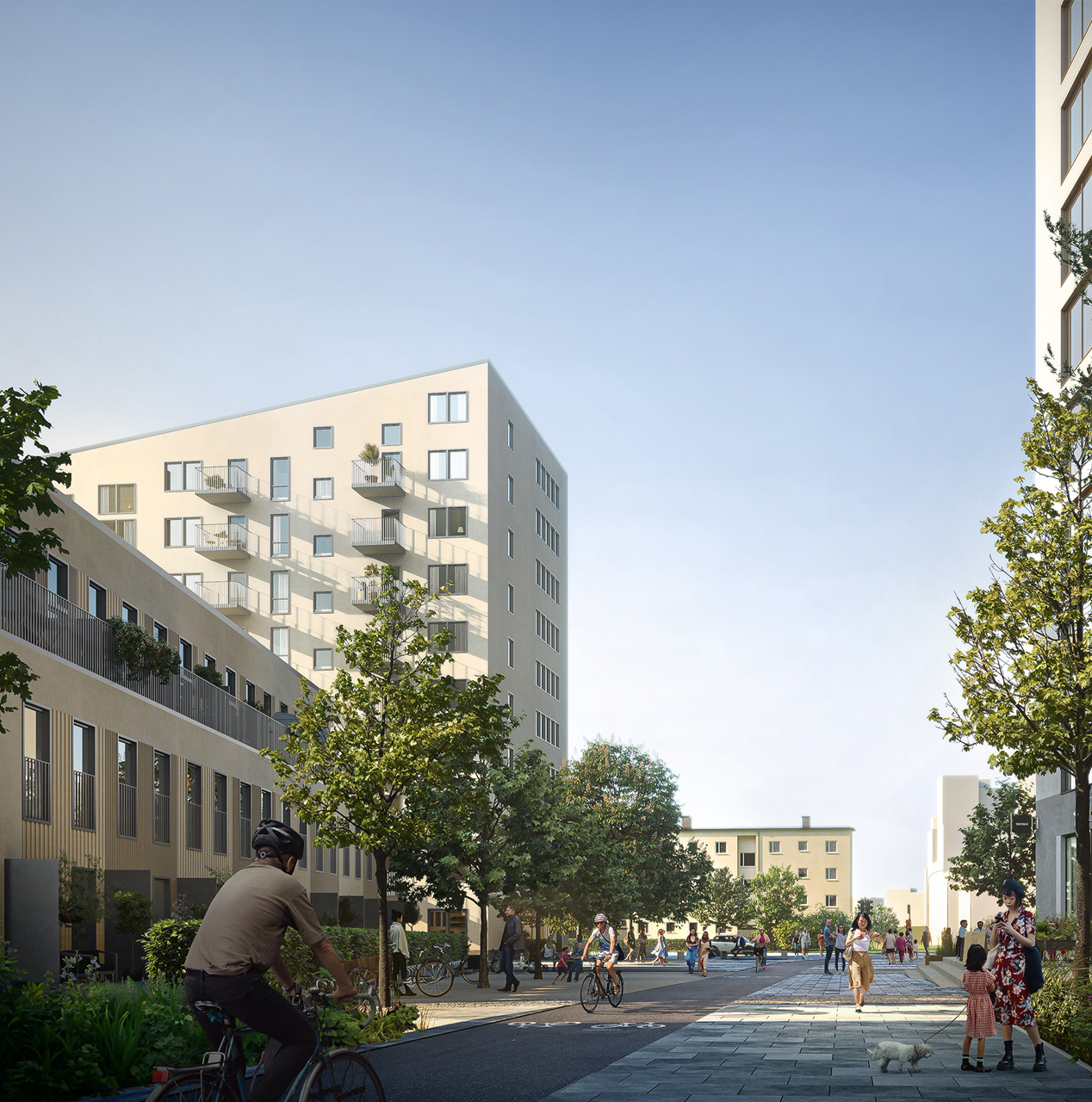 Valla Torg
Architects
Magnus Pörner och
Fredrik Pettersson (responsible)
Veronica Thorfve
Oskar Forsblom
Felicia David Reppen
Victoria Fabian
Location
Valla Gärde, Stockholm
Client
Besqab
Program
106 apartments + 8 row houses
Bulit/status
Planning stage
The project consists of a multi-dwelling block situated on the current square in the Valla Gärde area, along with a row house block perpendicular to it extending northward. With the ongoing development of Årstafältet in its northern, western, and southern parts, there is a desire to define the pathway that extends from Årsta Torg through the Valla Torg tram station down to the new development at Årstafältet and then up to Östbergahöjden. To enhance this line, there is a plan to relocate Valla Torg to the west, so that the square aligns with this pathway. The old square and the two low-storey retail buildings to the east will be demolished and replaced with the new multi-dwelling and row house blocks.
The central street in the area – Sandfjärdsgatan -forms a clear bend in the middle of the area around the square and one of the low buildings. This makes the location very significant for the entire area, as it deviates from an otherwise well-ordered original detailed plan developed by Göran Sidenbladh och Torsten Westman in 1959. Paul Hedqvist och Karl Gustaf Brokvist were architects for some of the buildings at that time. The plan includes placing 14-storey high buildings in pairs to the north and south of Sandfjärdsgatan in a rhythmic pattern. Low, four-storey blocks are interspersed between the rows of four high-rise buildings, from northwest to southeast.
Our multi-family housing block attempts to relate to both these original building types – the low-rise block and the high-rise buildings – by merging them into a cohesive form. We have designed a rectangular block in plan, but by allowing it to rise from five stories in the west to 10 stories, we get a gable facing west and the square that adopts the proportions of the facades of the tower buildings. The increased height towards the square simultaneously reinforces the importance of the new square. The new detailed plan also includes two tall buildings north of the square, contributing to the overall vision. The row house block in a north-south direction is along the new pathway and builds its street space with the two new tower buildings on the opposite side.
Both the multifamily and row house blocks feature three sides intended to be rendered to integrate with the surrounding houses, but one long side of the blocks deviates and is clad with wood or panel material.
For the row houses, the long side faces the pathway to the west, and for the multi-dwelling block, the long side is a fully covered balcony facade facing south, where every other balcony angles out in a diagonal pattern across the facade, creating a diverse interplay of shadows. The roofs are intended to be covered with sedum, given their visibility from the surrounding buildings and to make the project more sustainable.