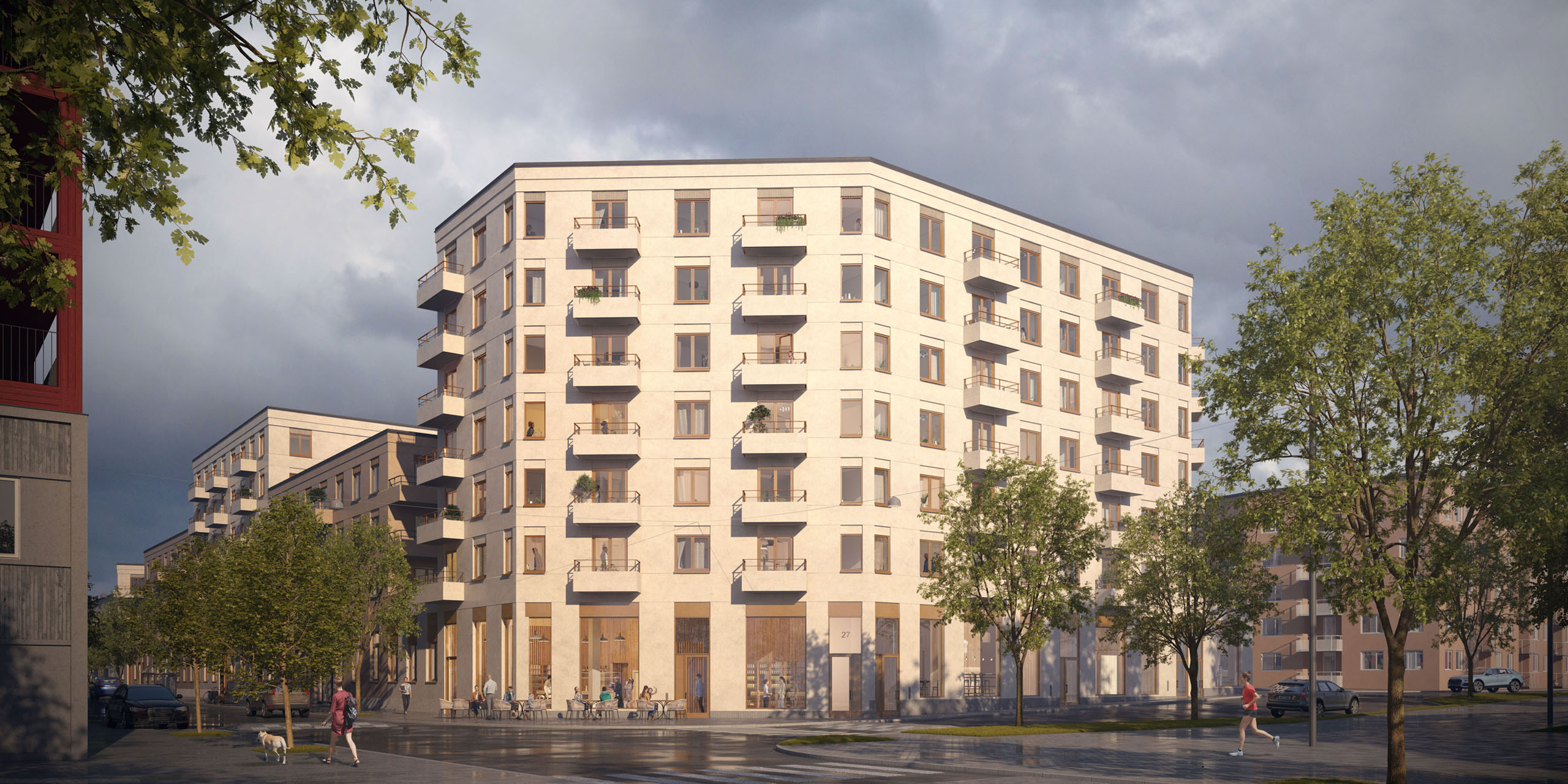 Barkarby Pluss A
Architects
Magnus Pörner and
Fredrik Pettersson (responsible)
Martin Kraft
Annika Wüthrich
Dena Moayed
Aleksandra Mihajlovic
Agnes Göransson
Victoria Fabian
Location
Barkarbystaden, Järfälla
Client
Selvaag Bostad
Program
179 apartments + common space 450 m2
Bulit/status
Building permission handed in
Siteplan by municipality Järfälla
Barkarbystaden is a big city plan north west of Stockholm on the previous military airport F8. The historic bulidings on the airfield has a simple and elegant expression in their details, which often is the case with military buildings from the 1930-60´s. Block 14 from the third expansion phase is one of the bigger blocks with a maximum of 204.500 square feet (19.000 m2). It is surrounded with a variety of scales. To the east the block is facing a small square with buildings of six to eight stories. To the south there is a wider street with plans for a bus route and opposite buildings of a six storey scale.
West of the block the existing buildings are four stories to the south and two story row houses to the north west. The block to the north is stepping up from four to eight stories along a smaller city street. We are aiming for a balance where the block can be read as one or as parts and pieces, with a coerente first floor that binds it all together.  Towards the square the buildings are higher (seven stories) and contains a common space for the inhabitants with gym, lounge, meeting rooms, reception, play and party areas. The higher building steps down from seven to six stories along the north perimeter. The common areas makes the inhabitants part of a bigger community which provide conditions for greater social sustainability in the area.
Three smaller houses meet the low four storey housing to the south west and provide the courtyard with air and daylight. A volume varying from four to six stories meet the southern street. To underline the entity of the block we work with one window size except for the bottom floor where it varies in height to meet the different streets. In the facades you can read the parts surrounding each stairwell by two different facade colours – one brown beige and one white beige. Each facade colour has its own window colour – one goldish yellow and one warm grey – that also covers the metallic tops of the bottom floor windows.
A base of concrete in two different patterns meet the surronding streets. The light coloured houses has white pigment in the concrete. With these small colour variations we create a variety in the project that makes it possible to read is both as one entity and the parts it´s made of. The nuances between colours and patterns as in the base, windows, entrance doors and balconies and their detailing create a connection back to to the elegant military buildings from the old airfield.