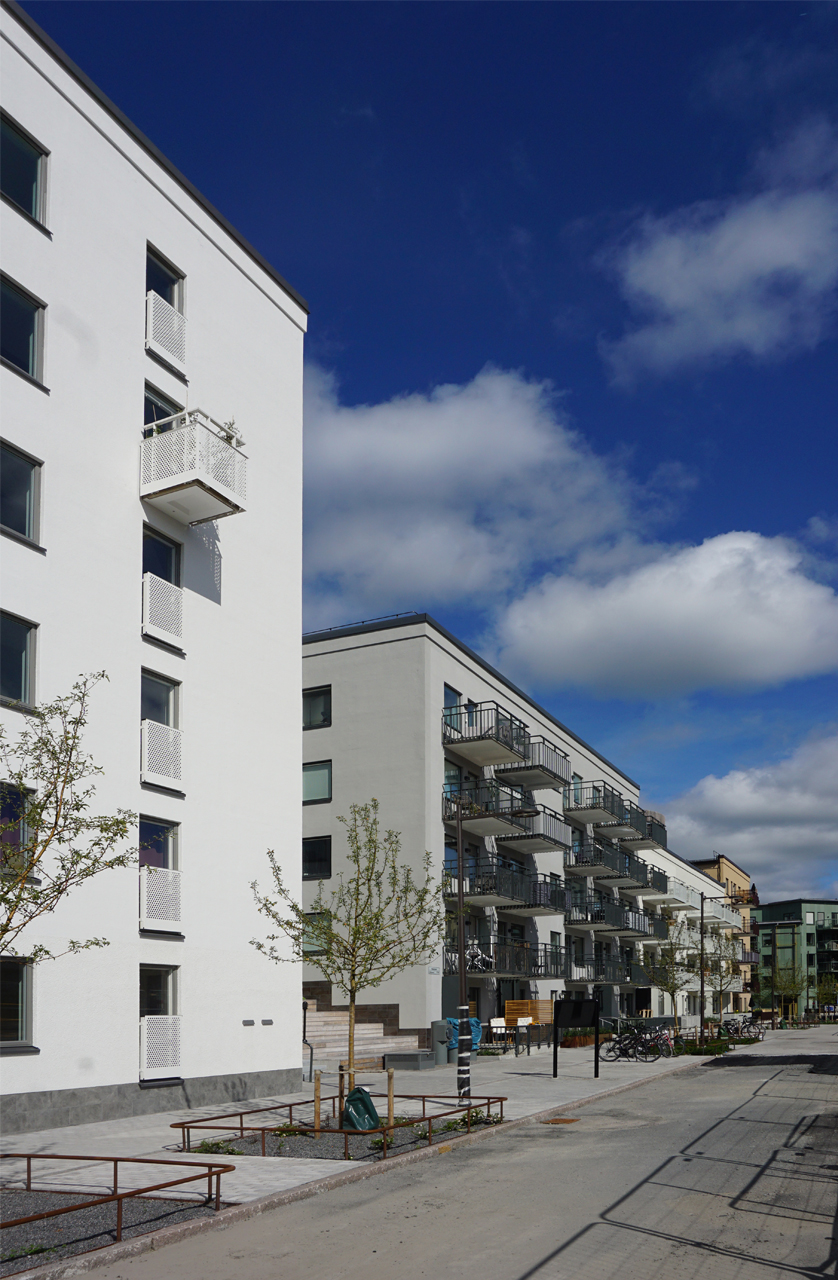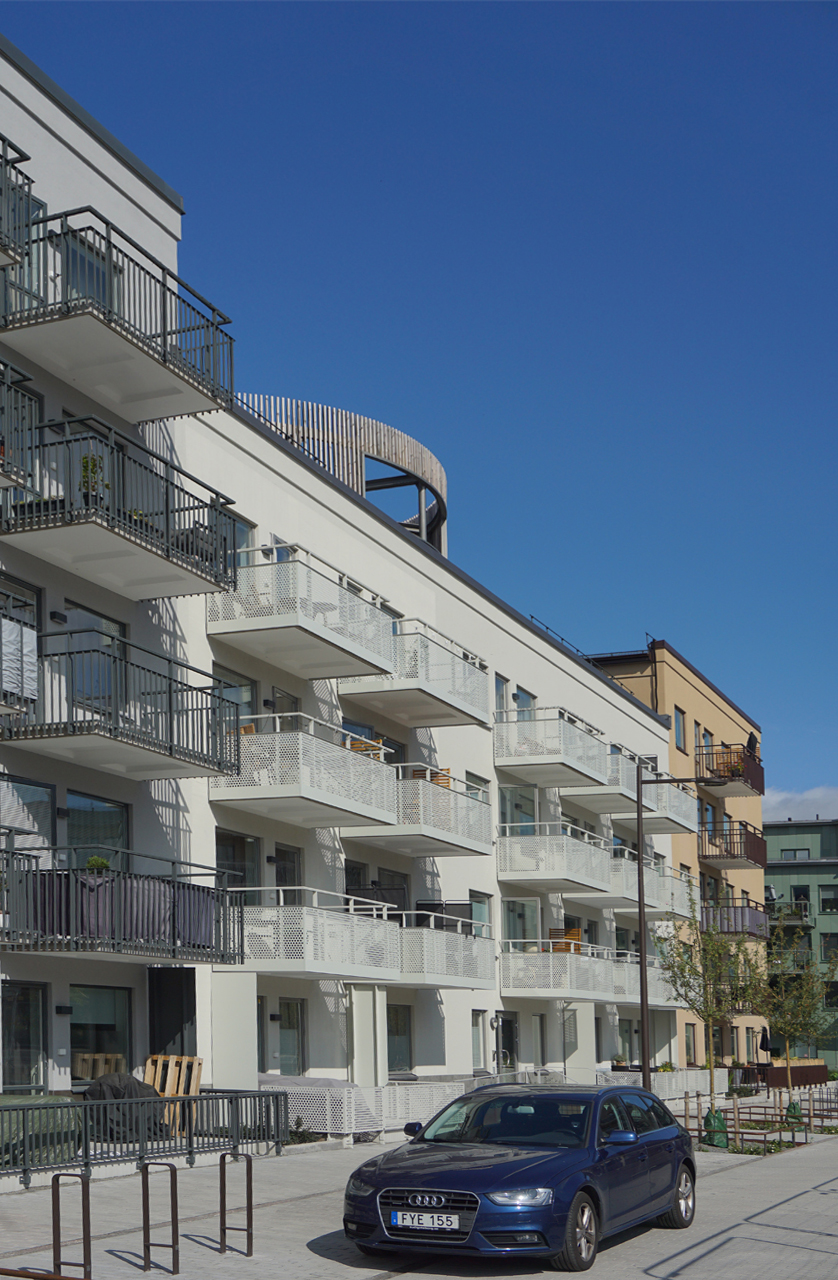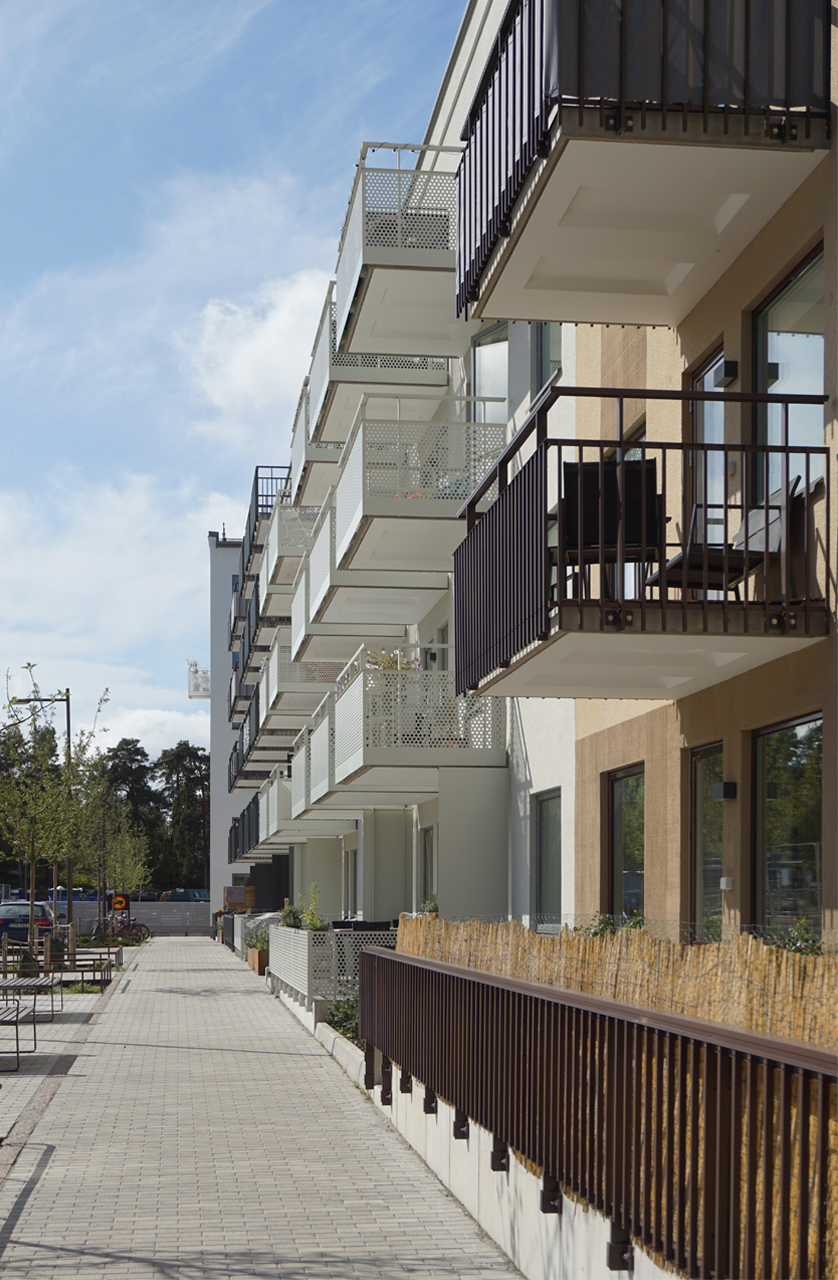 Scilla
Architects
Fredrik Pettersson and
Magnus Pörner (responsible)
Agnes Göransson
Aleksandra Mihajlovic
Monika Lchagwadzawyn
Andrei Magureanu
Location
Täby Park, Täby
Client
Skanska
Program
187 apartments + 2 commercial spaces
Built/status
2020- 2023
The housing block Scilla consists of two residential volumes – one is located towards the district's urban central square with two adjoining city parks, while the other faces a rather small-scale neighbourhood park towards the south. The prominent location by the square, which forms the area's narrowing part between the city parks, contains floor-high plinths clad in standing brick with reflecting joints in between. A mezzanine balcony wraps around the corner staircase unit, which reduces the scale of the square. The several staircase units within the block we regarded as individual houses characterised by their colour, distinguishing the houses from one another. The plastered facades come in warm white, grey, yellow and beige tones.
The window frames and roof fascia's are lacquered brown or dark/light grey metallic. The balcony railings consist of modest pin railings or – when required due to noise regulations – sleek metal sheets which contain either a perforated or convex pattern. One of the staircase units contains a recessed balcony along its entire façade towards the boulevard. The balconies are made up of light grey perforated metal sheets placed in front of a lively wooden façade which provides depth to the façade in terms of shadows, particularly when met frontally from the adjoining square.
Towards the neighbourhood park, the houses are significantly lower and more varied in height. Two different types of plaster, one smooth and one striped, divide the staircase units into even smaller volumes. The entrance towards the block's inner courtyard is located along this façade as well, formed by stairs and terraces with seating leading up to the courtyard garden. The patio's towards the neighbourhood park are elevated from the street and when you open your own gate, you can sit in the stairs facing the trottoir and the greenery.
The project classifies as 'dark green' according to Skanska's own classification system by meeting extremely high sustainability requirements. Solar panels cover the entire roof and all construction waste is recycled. On the roofs there are communal roof terraces in the form of circular conservatories surrounded by wooden frameworks which are illuminated from within, producing an inviting effect in the evening.